enhancing public safety in kansas by providing statewide access to next generation 911 services
Call 911 before calling your family and friends.
REMEMBER
Calling your family or friends first- delays the emergency responders getting the information real time and the technology that the direct call to 911 can provide. Play video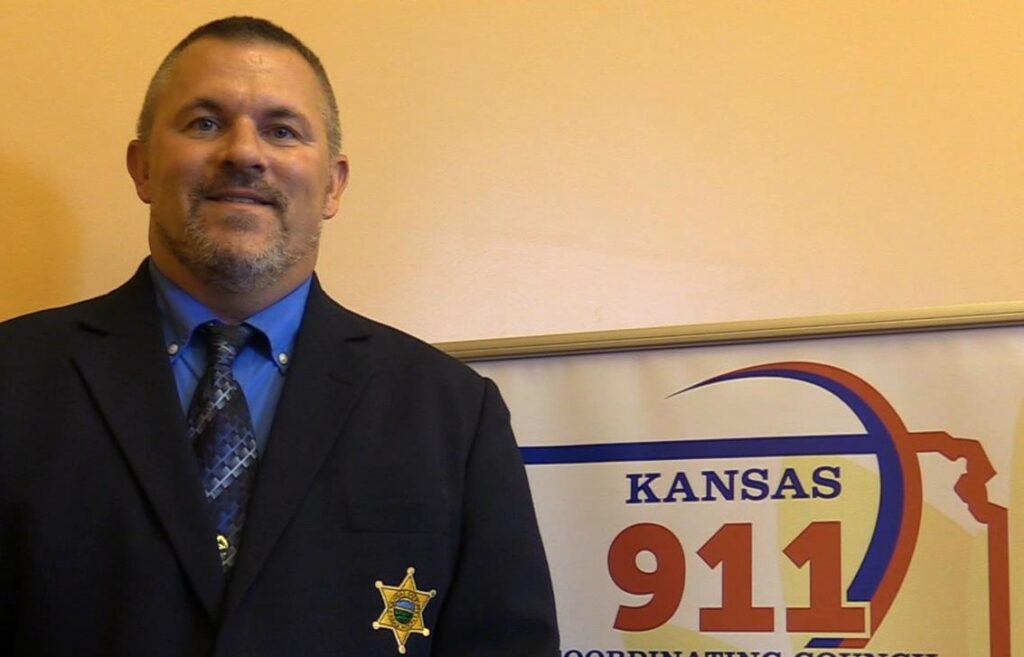 Governor Laura Kelly appoints new chairman.
Monday May 1st, 2023, Governor Laura Kelly appointed Haskell County Sheriff Troy Briggs as Chairman of the KS911 Coordinating Council.
Governor Kelly said the council's purpose is to monitor the delivery of 911 services, develop strategies for future enhancements to the 911 system and distribute available grant funds to Public Safety Answering Points (PSAPs).
Sheriff Briggs started his career in Law Enforcement in 1995. He was elected Sheriff in 2009. He has served two terms of service on the KS911 Coordinating Council, representing the KS Sheriff's Association. We look forward to Sheriff Briggs leadership and continuation of support in the council's mission of "Enhancing Public Safety by Providing Statewide Access to Next Generation 911 Services.
Scott Ekberg, KS State 911 Administrator
Congressman Mann see's demonstration of Text-to-911 & Rapid Video Rice County, Kansas March 6th, 2023 – On March 3rd, 2023, Congressman Tracy Mann stopped by and toured the Rice County Emergency Communications Center prior to his townhall in Lyons. Public Safety Telecommunicator Diana Espinoza demonstrated the RCECC's capability to process a Text-to-911 call for service. …
REQUEST FOR PROPOSAL (RFP) Bid Event Number: EVT0008859 Document Number: RFX0002059 Replaces Contract: New Date Posted: October 31, 2022 Closing Date: December09, 2022, 2:00 PM Procurement Officer: Bonnie Edwards Telephone: 785-296-3125 E-Mail Address: Bonnie.edwards@ks.gov Web Address: http://admin.ks.gov/offices/procurement-and-contracts/ Agency: Kansas 911 Coordinating Council Item: Program Management Period of Contract: January 1, 2023 through December 31, 2023…
Congressman Mann see's demonstration of Text-to-911 & Rapid Video Rice County, Kansas March 6th, 2023 – On March 3rd, 2023, Congressman Tracy Mann stopped by and toured the Rice County Emergency Communications Center prior to his townhall in Lyons. Public Safety Telecommunicator Diana Espinoza demonstrated the RCECC's capability to process a Text-to-911 call for service. …
REQUEST FOR PROPOSAL (RFP) Bid Event Number: EVT0008859 Document Number: RFX0002059 Replaces Contract: New Date Posted: October 31, 2022 Closing Date: December09, 2022, 2:00 PM Procurement Officer: Bonnie Edwards Telephone: 785-296-3125 E-Mail Address: Bonnie.edwards@ks.gov Web Address: http://admin.ks.gov/offices/procurement-and-contracts/ Agency: Kansas 911 Coordinating Council Item: Program Management Period of Contract: January 1, 2023 through December 31, 2023…