KS911 Coordinating Council Operations Commitee
You are here:
Home
1
/
Events
NG911 Executive Committee Weekly Briefing (every Friday from 9am – 10:30am) Contact Michele Abbott for additional information.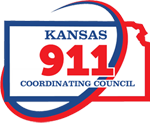 The Kansas 911 Coordinating Council was created by the Kansas 911 Act (K.S.A 12-5362 et seq) and is tasked with monitoring the delivery of 911 services, developing strategies for future enhancements to the 911 system.


A special thank you to Brad Neff at Kansas Whispers Photography for the beautiful Kansas landscape and nature images used for this site.