Kansas First Responders Get New Network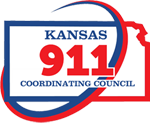 The Kansas 911 Coordinating Council was created by the Kansas 911 Act (K.S.A 12-5362 et seq) and is tasked with monitoring the delivery of 911 services, developing strategies for future enhancements to the 911 system.


Upcoming Events
There are no upcoming events at this time.
A special thank you to Brad Neff at Kansas Whispers Photography for the beautiful Kansas landscape and nature images used for this site.